Sasha's Story

Almaty

March 16 through March 20

What a Wirlwind ....




Don't forget to sign the Guest Book on the 
Home page
.  
We are saving the entries for our children's baby books.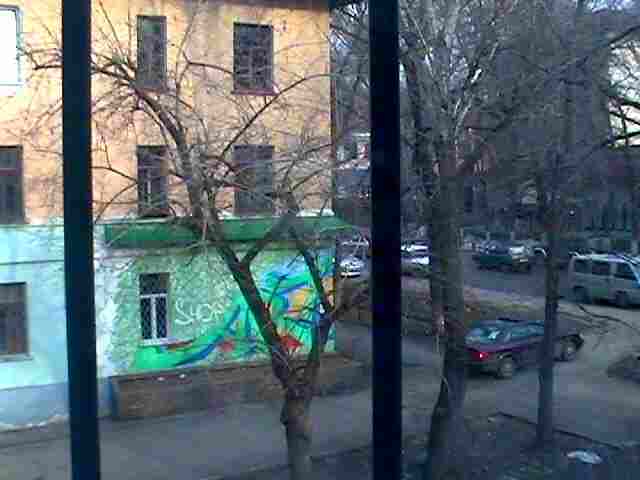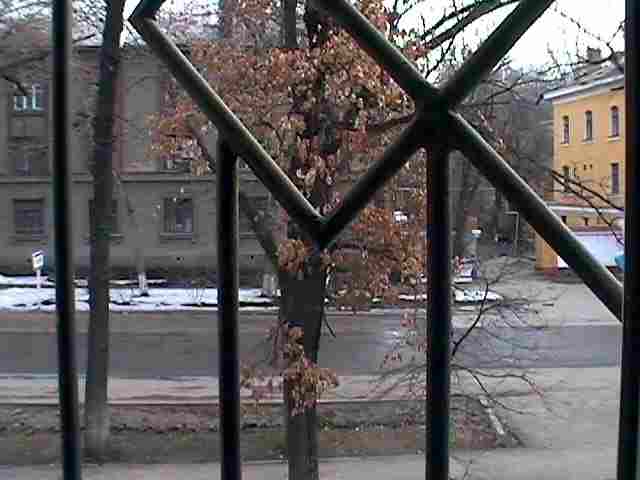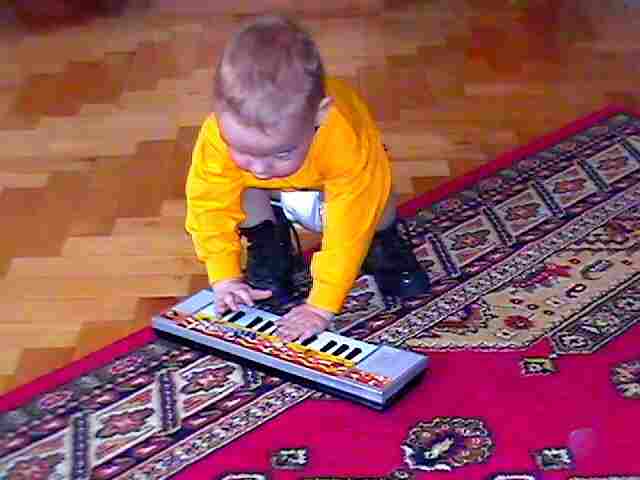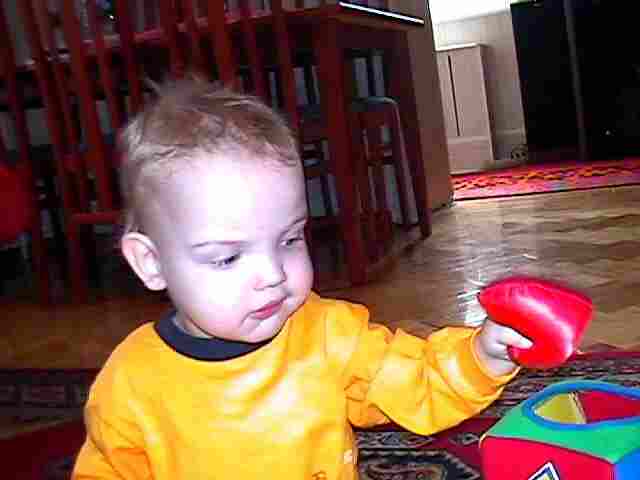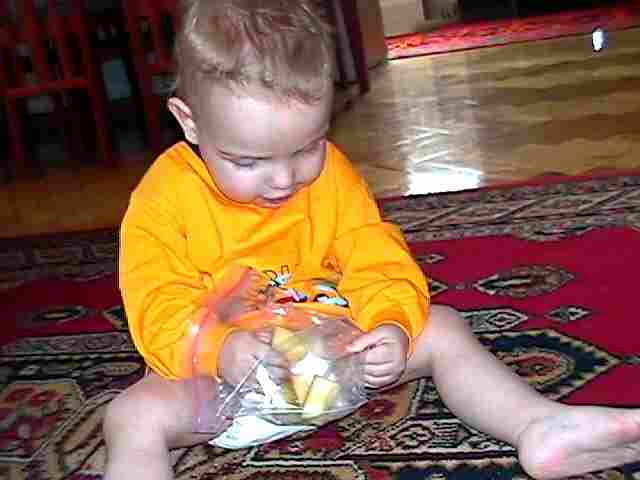 A few shots of me playing in the Apartment in Almaty ... first come the apples how do I open these things ... then lets dunk the heart and play some music ... Mommy needs entertainment.

All I can say is Almaty was a whirlwind.  

Sunday, March 16

We arrived at 5:30 pm to meet the wonderful facilitators there.  Andreas was to be our dirver for our few days there and he was great.  Sasha and I took in the parking lot sites while Andreas and Tim grabbed all the luggage (and their was a lot ... we made up for what we left as donations with lots of souveniers).  Then off to get the Bowe's settled in their apartment and on to our apartment.  It was on the second floor above a Travel Agent with no one above us.  It is also close to the street.  Lug all the luggage up, get adjusted, give Sasha some juice and off to shop at the Ramstore for supplies and then back to the apartment for dinner ... by the way at this point we discovered how hungry Sasha was as he bit off the end of the French bread.  For dinner we had bacon and eggs which Sasha enjoyed and then off to bed for Tim and Sasha (Tim was leaving at 2 am for his 4 am flight) while I packed what he needed to take back. Tim left promptly and sadly at 2 am for the airport.  At 3:30 am Sasha awoke and could understand where Daddy was so Mommy and Sasha sat on the floor rocked and cried together about Daddy having to leave.  

Monday, March 17

Today was our off day to do what we wanted.  So first to visit Sasha and Natasha to see dream quilts and silk paintings of Kazak scenes.  Natasha has beautiful works and Sasha and I found quite a few.  Then to the office to get our paper work started.   Sahsa had a great time playing with everyone their while I did the "fun" paperwork.  So next was finishing our shopping for all the items to bring home at the Tsum store.  I was determined to get this over quickly as Sasha does not have a tolerance for shopping ... where is my little princess when I need her ... she already has a passion for shopping.  We got it all done and then returned to the apartment for lunch and a nap.  In the afternoon we just chilled at the apartment and even ventured out on an afternoon jaunt around the neighborhood ... we were in the central part of town and close to lots of interesting places.

Tuesday, March 18

We heard from Nana this morning that Tim had arrived safely and was sleeping with the babies who were all glad to see him but also sad that Nana was leaving the next day.  

Today we ventured up to the mountains to get some fresh air and see the sites.  The view from the mountains was wonderful ... pictures to come as I forgot the digital camera and only had the 35MM ... we saw trees, trees and more trees and some snow.  We stopped at few places on the way to the top to absorb the view ... by the way Sasha was not feeling great and slept most of the way up but he seemed to wake-up to take in the view.  Then to the top for some lunch and watching the skiing.  We had a great traditional soup and just sat and absorbed the sun and scenery.  After lunch Sash was ready for a nap so back to the apartment before we ventured out to the park for a walk.  Before the park we decided take in the Green Market which is a sonderful hodge podge of everything and anything you could ever need.  We enjoyed the walk and just browsing.  At the park, Sasha enjoyed the walk with the addition of the visit to the War Memorial and church.  He enjoyed most though the horse and birds in the park and was in awe.  Overall a sleepy but great day ... only three more to go before we are on our way home.

This evening we talked to Daddy and Nana.  Daddy misses us terribly and is ready to have us home.  Nana will be going home this afternoon to G-Daddy and her babies Buddie and Chloe.  She will miss the three little ones and is already for us to move to NC ... which she has mentioned a few times.  We love you Nana and thank you for everything you have done!!!

Wednesday, March 19

Today was our medical visit for Sasha at 2 pm.  So in the morning we took it easy ... ventured out in the neighborhood again and visited the local art shop ... intersting works.  Then lunch and a nap for Sasha to ensure we are in a good mood for the doctor's visit.  At 1:45 pm off to the medical clinic ... Intenational SOS.  The facilitators are wonderful.  We arrived and had to do nothing ... all the paperwork had already been completed for us based on the records.  We saw Dr. Irinia and she was wonderful with Sasha.  He is 83 cm (33 in.) and 10 kg (22 lbs) and per her "a healthy beautiful baby boy".  She was happy to hear that he and Nikolai would be together and wished us all the best of luck.  Yeah ... this part is over and we are one step closer to the Embassy which will be tomorrow.  Then off to get a few more last minute items for some people back home.  Today we decided to eat out at the India cafe which is wonderful.  Sasha enjoyed the meal and especially his banana yogurt milkshake.  Back to the apartment for some rest before our last day in Almaty.

Thursday, March 20

Today is our visit to the Embassy at 4 pm to get all the paperwork completed so we can leave tomorrow morning at 4:10 am.  We spent the morning at the zoo.  Sasha had a great time and was in awe of all the animals.  He really seemed to like the deer who folloed him along the fence and the turtles swimming in water.  He was not as sure however about the polar bear who was sleeping but seemed to keep looking up at him.  For a little tike the zoo is a great place to spend some outdoor time.  We took in a quick nap at the apartment and then off to the Embassy for our visit.  The Embassy had moved from our previous visits and was brand new.  We checked in and then up to the 9th floor.  We waited with the Bowe's and two other couples adopting from Almaty ... I forgot names but they had two beautiful little boys ... Sam and Andrew.  We talked with the wonderful lady at the Embassy and got all the paperwork completed and walked away with Sasha package for INS and visa to enter the country.  We are on our way ... 8 hours and 40 minutes till we leave for the airport.  So back to the apartment to pack and get ready to leave.  See coming home for all the details ... it has been a wonderful journey but I am really glad that we were going to be heading home!!!